Mobile Marketing
Most people keep their mobile phones within arm's reach for almost 19 hours a day! Mobile marketing and messaging can be one of the most immediate and personal ways to reach your target audience. Whether the goal is to attract and stay in touch with volunteers or promote giving to a wide audience, you have the opportunity to create a two-way short conversation with individuals – especially amongst the younger generations.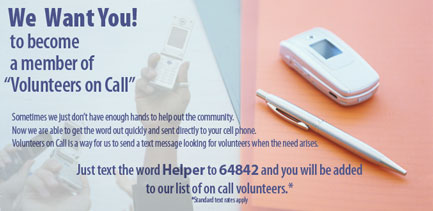 How we can help…
CL Graphics can help establish ongoing and inexpensive mobile messaging campaigns aimed at volunteer services or event notification. We can even help you prepare the latest in mobile marketing – the use of QR Codes. A QR Code is a 2D barcode that is linked to a variety of on-line applications, such as your website, Facebook pages, or even videos. The QR code can be printed on newsletters, brochures, signs, newspaper ads – virtually anywhere in print. Upon scanning the code via your camera phone, the QR code directs you to the intended site.
If you are looking to establish a mobile giving campaign, we can also help direct you to the Mobile Giving Foundation www.mobilegiving.org – a recognized non-profit organization that works through all major cell-phone providers to help collect and distribute your donations.